5 New Austin Community Gathering Spaces
Looking for a new place to hold your next community gathering, meeting, or event? Check out these five beautiful and innovative spaces in Austin.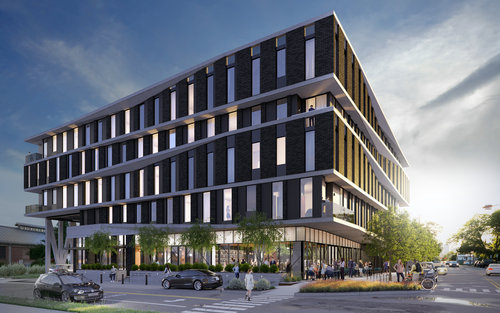 710 W. César Chávez St.
The new Central Public Library located in Downtown Austin offers many different options for community gathering spaces, including an outdoor amphitheater, gallery, reading room, rooftop garden, and special events center to fit the different needs of the Austin community. They incorporate technology and sustainability into their unique spaces, and each space is beautifully designed with natural light and modern features.
Canvas at The Refinery
612 Brazos St.
With a clean, modern aesthetic, Canvas at The Refinery is perfect for any of your intimate creative event needs. The event space holds anywhere from 25 to 250 attendees, making it a perfect option for everything from rehearsal dinners and weddings to conferences, speaker events, and cocktail parties. The venue offers a discount for nonprofits as well as additional amenities to elevate your next event.
East 6th and Chicon
Although not opening until early 2019, the boutique hotel near the Plaza Saltillo development in East Austin will be a lively social hub for the neighborhood and community with two restaurants and bars. The hotel will integrate a 100-year-old warehouse and industrial materials into a modern design. There will be 3,500 square feet of event space in addition to an outdoor courtyard.
South Congress
Soho House Austin's private social club will open in late 2019 in the new Music Lane development on South Congress. It will include a hotel, club, and public restaurant. Although the social club is members-only, it creates a unique community space for Austin's creative class and the restaurant will be open to the public. Soho Houses around the world pride themselves on design, and the new Austin counterpart will definitely be no different.
Relay Events at the Center for Social Innovation
1023 Springdale Rd.
Opening Fall 2018 and a part of the new Center for Social Innovation, Relay Events is home to impactful gatherings for Austin's vibrant nonprofit and business impact communities. Designed as a flexible meeting space, Relay Events is a 5,050 sf, flexible venue perfect for meetings of any size from large community gatherings and nonprofit galas, to private company retreats or neighborhood meetings. Relay also offers many amenities and a discounted rate for community members of the Center for Social Innovation.
Planning an event with impact? Relay Events is offering to host your next gathering for FREE. Apply by September 1st to enter.